If your four-legged friend is a frequent companion on your outdoor trips, consider getting him or her the appropriate gear to make the trip easy and efficient for both of you. They already love you, but they'll flip over this gear!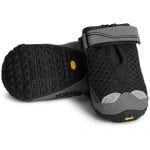 Rugged boots designed to grip and protect all four of your best friend's paws. The tightly woven air mesh upper keeps air circulating during activities, while the lug design of the sole provides traction on slippery surfaces. Trimmed with reflective accents for low light visibility.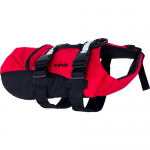 While many breeds of dogs are great swimmers, just like humans, dogs tire out. With the NRS CFD Dog Life Jacket, your pup will have the extra flotation he needs to swim safely to you. Available in a variety of sizes, this jacket has a grab handle on top and quick-release squeeze buckles to make swift movements easy to perform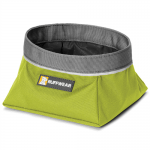 Make sure Rover stays hydrated along with you with the RuffWear Quencher Dog Bowl. This collapsible nylon bowl is easy to slip into a pocket or backpack, and is machine washable so you don't have to be grossed out by its condition after a few uses on the trail.