The most crucial component of outdoor adventures is one that is all too often overlooked: hydration. Keeping hydration levels up provides your body and brain with essential fuel for their optimum performance. Dehydration can cause all kinds of problems, ranging from physical discomfort to life-threatening symptoms, so never take hydration for granted in the outdoors.
Because packing enough water to supplement your travels may prove logistically problematic, investing in one or more quality water filtration devices for your camping or hiking trips can literally save the day without taking up too much valuable space in a backpack. Here are just a few popular devices you can find at SunnySports!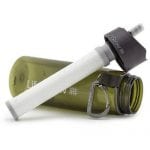 LifeStraw has been one of the most popular portable water filtration devices since its humble beginnings as a mere filtration cloth in 1994. The LifeStraw Go Water Bottle makes filtration on the go an easy task by inserting the filter directly into a 22 oz BPA-free reusable water bottle, filtering your water as you sip through the straw. The detachable filter can treat up to 264 gallons of water before needing to be replaced, and will remove 99.999 percent of bacteria, protozoa, particulates, and tastes.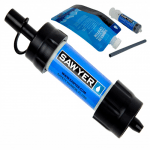 Pocket size is where it's at for many survival gadgets, and you don't get much smaller than the Sawyer Mini Water Filtration System. Weighing just two ounces, this portable water filtration device filters up to 100,000 gallons of water and removes 99.999 percent of bacteria, protozoa, particulates, and tastes. This handy system comes ready for use with its own sturdy plastic straw and squeeze pouch, or it can be screwed on  top of any plastic soda bottle or added to the line on a hydration pack for instant potable water.
For the ultimate in portable water purification devices, the SteriPEN Adventurer Opti reigns supreme. Destroying over 99.999 percent of harmful microorganisms, this UV lamp pen renders questionable water drinkable in less than one minute, even in extreme cold. You'll be able to safely drink up to 8,000 liters with the Adventurer Opti, which runs on just two replaceable CR123 batteries. If your adventures take you to extreme climes, this is a worthy investment!