If you're amassing all your own camping gear for the first time, it can be a little overwhelming and seemingly expensive. It doesn't have to be either of those things. Check out just a few awesome camp kitchen sets under $40 you can find at SunnySports!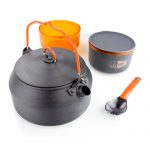 Minimalism definitely has its place in the outdoor world, and the GSI Outdoors Halulite Ketalist Cookset is the very definition of minimalist. Including a one-liter anodized alloy kettle, 14 oz insulated mug, 14 oz bowl with sip-it lid, telescoping foon (combo spoon and fork), and mesh carrying sack, you've got everything you need to make a hot drink or meal on the trail. Everything nests inside the kettle for easy storage!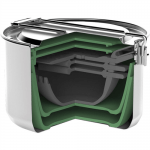 Cooking for more than just yourself? You'll have the tools to cook for many with the Stanley Adventure Prep and Cook Set. This comprehensive set includes a 2.2-liter stainless steel pot with vented lid, folding cutting board, spatula and ladle with extending handles, and two 20 oz bowls with lids, which all nest cleverly inside the main pot, securely held in place by the pot's handle. Genius comes in small packages!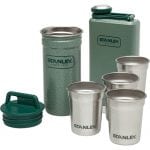 Who doesn't enjoy a nice buzz with friends in the outdoors? Set the scene with the Stanley Adventure SS Shots + 8 oz Flask Gift Set. With the 8 oz stainless steel flask and four stainless steel shot glasses, you can take the party anywhere there are no metal detectors or pesky tee totalers. Includes stainless steel carrier with screw top lid for the shot glasses. Easy to clip off to a pack!