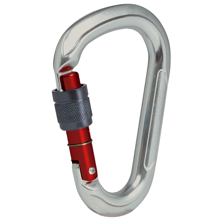 SKU: MMTHEC
Breaking load lengthwise: 23
Breaking load open: 9
Breaking load across: 9
Inverted-pear shape
Weight: 3 oz.
Your Price:
$11.95
$12.95 $1.00 (8%)
Out of Stock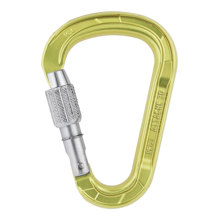 SKU: PZLA3
37 % lighter and 15 % thinner
Gru-V locking sleeve 
Fluid gate design
Keylock system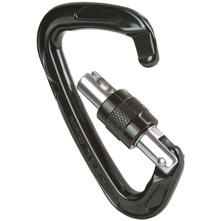 SKU: MDRSTSGC
Aircraft-grade 7075-T6 Aluminum
Black body and silver gate
Gate system: Screw-lock
Open gate strength: 9 kN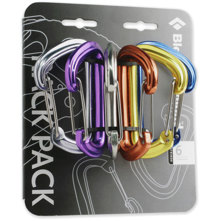 SKU: BKDNECR
Six-piece Color-coded Black Diamond Neutrinos
Racking Carabiner
Ultra-light
All-purpose
Easy Indexing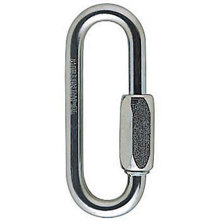 SKU: PZLGO
Weight: 60 g
Strength : 25 kN major axis, 10 kN cross-loaded
Material: steel, galvanized steel
3-year guarantee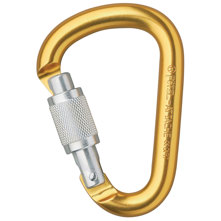 SKU: PZLAT
Compact, lightweight and easy to handle
Pear shape facilitates
Key lock system
Gate opening: 20 mm
Breaking strength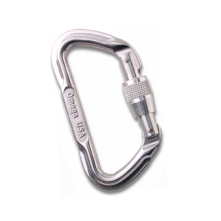 SKU: OMPLSLDC
Locking mechanism
Classic D shape
Hooded gates
Tapered nose
CE certified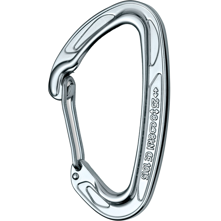 SKU: MDRULSWC
25 kN major axis
8 kN minor axis
8 kN open gate
92 mm. x 54 mm.
23 mm. gate opening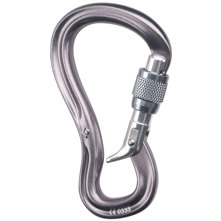 SKU: BKDGS
Patent-pending design
Hot-forged construction
I-beam spine
Easy-to-use
Screwgate sleeve
Your Price:
$16.95
$19.95 $3.00 (15%)
Low Stock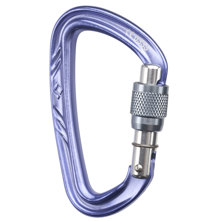 SKU: BKDNS
Hot-forged Construction
Secure Screwgate Sleeve Design
Snag-free Keylock Nose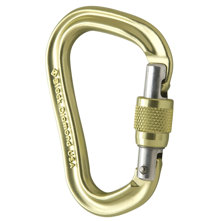 SKU: BKDVLS
Minimalist, pear-shaped design
Up to 30% increased friction with ATC
Made from anodized aluminum
Your Price:
$12.95
$14.95 $2.00 (13%)
In Stock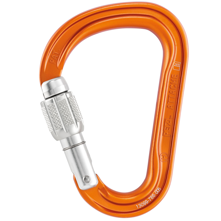 SKU: PZLAC
Key-Lock
H-Shaped Cross-Section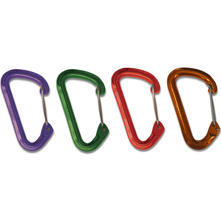 SKU: OMPDIWC4
Includes four anonized wire gate carabiners
Saves time when sorting gear
Various colors
Robust construction
Your Price:
$26.99
$27.75 $0.76 (3%)
In Stock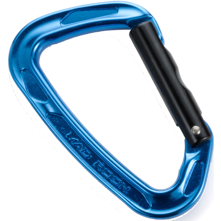 SKU: MDRSTSC
Color: blue
Gate type: straight
Shape: offset-D
Open gate strength: 9 kN
Dimensions: 4 x 2 x 1 in.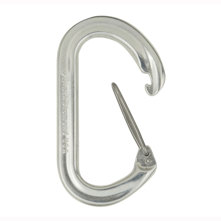 SKU: BKDOWC
Sleek, symmetrical design
Thinner body than classic Oval
Wire gate type
Resists whiplash and freezing
Open gate strength: 7 kN