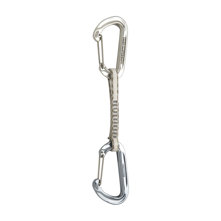 SKU: BKDOQD
Top and bottom Oz carabiners
Wire gates
Stainless steel wire hood design
Dynex dogbone with straitjacket
Closed gate strength: 20 kN
Your Price:
$17.95
$18.95 $1.00 (5%)
In Stock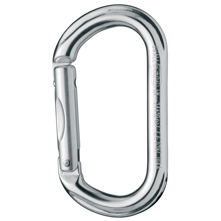 SKU: PZLOW
Oval shape is ideal for pitons and aiders
Great for racking
Keylock system
Reliable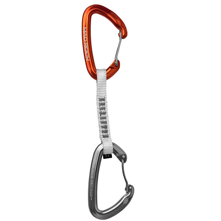 SKU: MDRCQ
Easy to handle
Weight: 3.06 oz.
Strength rating: 26 KN
Two wire gate carabiners
?Dyneema dog bones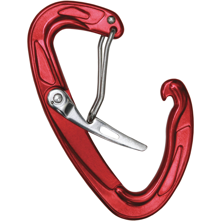 SKU: MDRTWC
Lightweight
Made from aluminum
High resistance
D-shaped
Wire gate type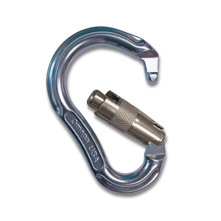 SKU: OMPJKQC
Easy on your rope
23 kN closed gate strength
8 kN open gate strength
10 kN minor axis strength
Wide gate opening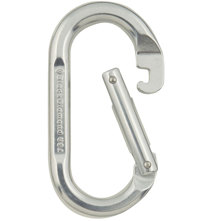 SKU: BKDOVC
Large carrying capacity
Uniform shape
Symmetrical design
Open gate strength: 6 kN
Closed gate strength: 18 kN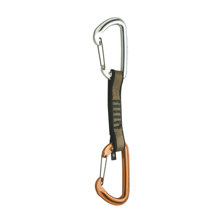 SKU: BKDFWQD
Dual quicksilver wiregates ensure safety
Closed Gate Strength 24 kN, 5395 lbf
Open Gate Strength : 8 kN, 1798 lbf
Minor Axis Strength : 7 kN, 1574 lbf
Dogbone/Runner Strength : 22 kN, 4946 lbf
Your Price:
$9.99
$10.95 $0.96 (9%)
In Stock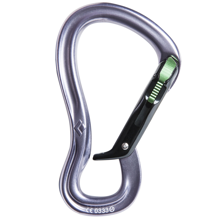 SKU: BKDMG
Key lock nose
Unique gate design with auto-lock
Gridlock shape
I-beam spine transitions
Weight: 3 oz.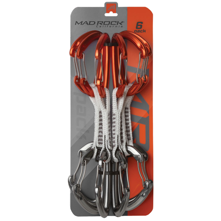 SKU: MDRCQ6
Easy to handle
Essential Climbing Tool
Ideal for sport climbing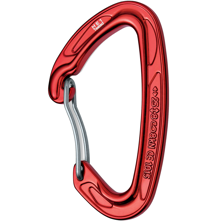 SKU: MDRULBWC
25 kN Major Axis
8 kN Minor Axis
8 kN Open Gate
92 mm. x 54 mm.
Gate Opening 22 mm.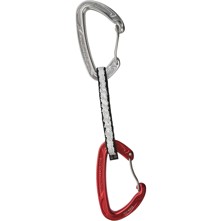 SKU: MDRUWQ
Rubber gasket tight end
Ultra slim and ultra strong
Ready to use
Weight: 4 oz.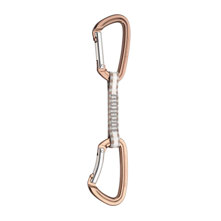 SKU: BKDPQD
Straight-gate Positron on top
Bent-gate Positron on bottom
Dual key-lock noses
14 mm Dynex dogbone
Straitjacket insert
Your Price:
$12.99
$14.95 $1.96 (13%)
In Stock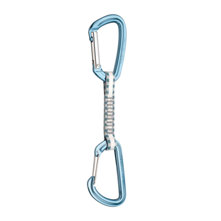 SKU: BKDPWQD
Positron carabiner btop
HotWire carabiner bottom
Wiregate
Keylock nose
14 mm Dynex dogbone
Your Price:
$11.99
$13.95 $1.96 (14%)
In Stock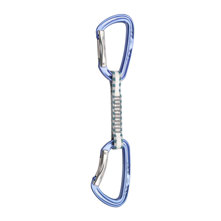 SKU: BKDNQD
Two 100% Hot-forged Nitron Carabiners
Dual Keylock Noses
Dynex Dogbone
Straitjacket Dogbone Insert
Your Price:
$16.95
$19.95 $3.00 (15%)
In Stock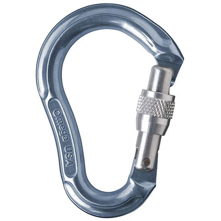 SKU: OMPJKSC
Screw lock gate type
Oriented shape for the load
Side swing gate
Minor axis: 10kN