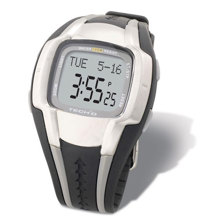 Located in:
Add-on Gear, Watches and Timers
Onboard accelerometer takes the guesswork out of your workout. Accurately measures speed, distance and calories burned. Tough stainless steel construction handles the rigors of the trail and looks good enough to wear around town.

How It Works The key to the accuracy of Tech4o (Silva) watches lies within their accelerometer sensor. The accelerometer sensor works by first detecting changes in the user's movement (acceleration) that are translated into varying degrees of electric current within the sensor. These electric currents are instantly decoded by the Tech4o watches into highly accurate measurements of speed and distance and displayed on the watch face. Accelerometer sensors are commonly found within a diverse range of industrial products in which accuracy is critical to performance, including automobile air bags and tilt meters. Now, thanks to Tech4o engineering, you can experience the same highly accurate measurement of your outdoor performance by using Accelerator and Traileader watches to track your own speed and distance!

Technology The underlying technology in the Accelerator Series Watches is an accelerometer sensor. Accelerometers are used to measure acceleration. Originally developed during the Space Race to replace outdated gyroscopes, accelerometers can be found in a diverse range of today's products such as automobile air bags and tilt meters. In the Accelerator watch, a user's movement (acceleration) produces varying degrees of electric current within the sensor, allowing the watch to detect different levels of acceleration, and therefore measure speed and distance.

The Competition There are really only a few different ways to calculate the speed and distance of human-powered, on-foot travel. The first was basicmath, next came the mechanical pedometer, followed by satellite tracking GPS years later. Mechanical pedometers are cheap and abundant, but also highly unreliable. They operate on a simply pendulum clicker that relies on the walker's hip movement to count steps. Unfortunately, mechanical pedometers end up counting a lot of non-walking movements and assume that walkers are making consistent and repetitive steps, resulting in inconsistent measurements.

GPS technology is impressive, but also expensive, complex, and not always ideal for outdoor activities or indoor training. Satellitesignals can be lost in heavily forested areas, indoors, or behind large buildings and receiving signals eats up batteries. When a good signal can be found, often the device does not receive info often enough to account for twisty backcountry trails.

The Future The Tech 4o Accelerator Series fills the void between old mechanical pedometers and the overkill of GPS. A simple, yet versatile, wrist-watch design can provide extremely accurate speed and distance data in all conditions.