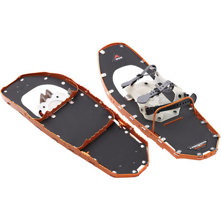 Located in:
Add-on Gear, Snowshoes
MSR's Lightning Ascents represent a revolution in snowshoe design. Available in men's and women's models, they feature a patent-pending Total-Traction frame made from one vertical blade of aerospace-grade aluminum that delivers unprecedented 360° traction. They're also the lightest snowshoes in their class about 15% lighter than competitors with performance and usability that surpass everything that's come before.

This product can only be shipped to U.S. addresses.