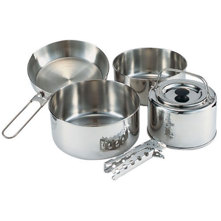 Located in:
Add-on Gear, Kitchen and Cookware
If you can afford the extra weight, why not take some extra amenities? The Gourmet Cookset includes 1.5- and 2-liter stainless steel pots, the Alpine Fry Pan and 1-L Teapot, PanHandler pot lifter and stuff sack.
Weight: 43.1 oz.

This product can only be shipped to U.S. addresses.