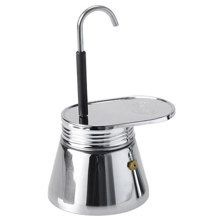 SKU: GSIE4CS
Brass steam pipe
Dimensions: 8.25 in. x 4.5 in. x 5.75 in.
Material: 18/8 Stainless Steel
Weight: 19.3 oz.
Capacity: 2.4 fl. oz.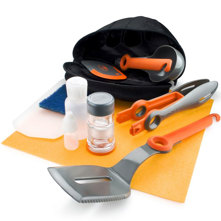 SKU: GSICOKK
Pivot spoon, spatula, and tongs
Compact scraper
Cutting Board
Dish soap dispenser
Oil bottle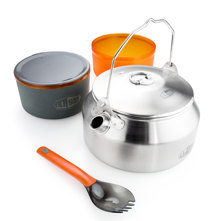 SKU: GSIGSK
Two telescoping foons
1 liter kettle
1.8 L stainless steel pot
Two 20 fl. oz. insulated mugs
Folding handle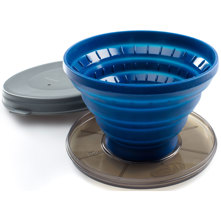 SKU: GSIJDC
Brews 12 cups of coffee
Collapsible drip cone 
Material: Silicone and clear polypropylene
Dimensions: 5.6 in. x 5.5 in. x 1 in.
Slim silicone drip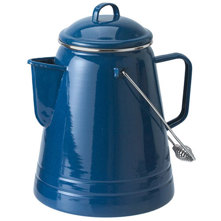 SKU: GSIECB36
Heavy-gauge Enamel steel
Dimensions: 10.7 in. x 9.2 in. x 13 in.
Oversized bail handle
Kiln-hardened twice
Hand made polished finish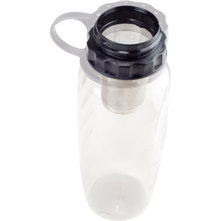 SKU: GSIH2JO
Ultralight backpacking utensil
Twist-on filter
Wide-mouth water bottle compatible
Easy clean-up
Stainless steel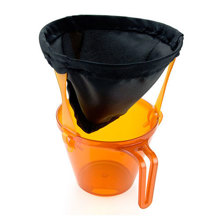 SKU: GSIJDUL
Compact design
Size: 4.2 in. x 4.2 in. x 0.5 in.
Compatible with #2 or #4 filters
Sturdy legs clip on to mug 
Weight: 0.4 oz.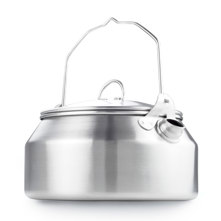 SKU: GSISK
Unrivale durability, Superior heating characteristics
Hold ultralight stoves, Fit optimally packs
Listed capacity: 1qt. 0.95 L
Sturdy Construction, Handle locks up
Pours well without any drips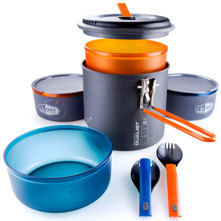 SKU: GSIDCS
Convenient folding handle
Lexan resin Crushproof lid 
Dimensions: 6.04 in. x 5.64 in. x 5.67 in.
Doubles as sink or wash basin
Includes an integrated strainer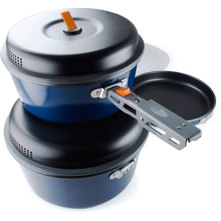 SKU: GSIBBCM
3 L Pot, 2 L Pot, 8 in. Frypan and 2 Strainer Lids
Cutting Board and Folding Pot Gripper
Exclusive folding gripper locks
Crushproof lid
BPA-Free resin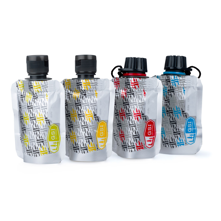 SKU: GSISSCS
Incredibly compact,Lightweight bottles, Multi-layer
Flatten and roll for storage
Color coded, BPA-Free laminate bottle
Rewritable date bar on front and rear
4.2 fl. Oz soft bottles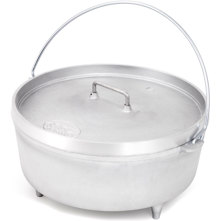 SKU: GSIDOA12
Weighs 66% less than cast Iron
Edge lip holds coals and charcoal
Fixed legs
Highly-conductive aluminum construction
Dimensions: 12 in. x 12 in. x  5.5 in.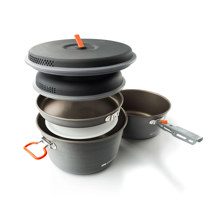 SKU: GSIPBCL
Folding gripper locks
5 lt./3 lt. pots, 9 in. fry pan
2 Strainer Lids, Cutting Board 
Folding Pot Gripper
Welded Sink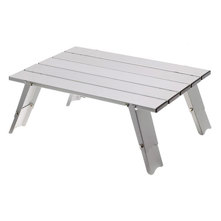 SKU: GSIMT
Anodized aluminum construction
Table legs with two adjustable heights
Weight Capacity of 20 lbs.
Accordion-fold design
Technical platform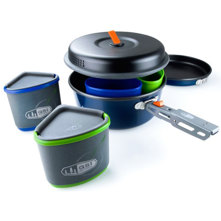 SKU: GSIBBCS
Rugged, welded stuff sack/camp sink
Crushproof, heat-resistant PBA-free nylon strainer lid
Compact, color-coded items nest inside
Aluminum with Teflon classic coating
A 2 liter pot, frypan with lid