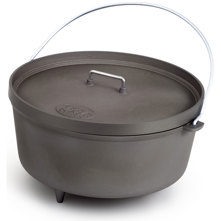 SKU: GSIDOH14
Cast aluminum
Weight: 8 lbs.
Edge lip Lid
Material: Hard Anodized Aluminum
Dimensions: 15.8 in. x 15.7 in. x 7.5 in.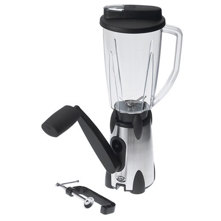 SKU: GSIVHB
Powerful two speed gear system
Pour through f locking lid
Made of Copolyester resin and stainless steel
Compact and lightweight
1.5 lt. pitcher and shot cap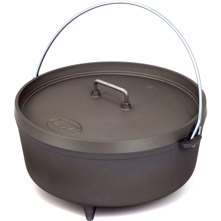 SKU: GSIDOH12
Edge lip
Holds coals and charcoal
Fixed Legs
Rust-proof cast aluminum
Dimensions: 13.4 in. x 13.0 in. x 6.6 in.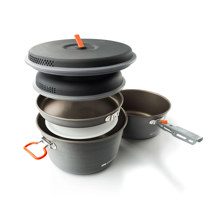 SKU: GSIPBCL
Folding gripper locks
5 lt./3 lt. pots, 9 in. fry pan
2 Strainer Lids, Cutting Board 
Folding Pot Gripper
Welded Sink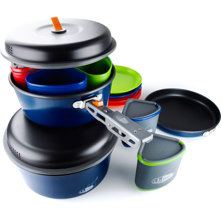 SKU: GSIBCCS
3 L pot, 2 L pot, 2 strainer lids
9.0 in. Frypan and 4 7.5 in. Plates
4 14 fl. oz. Bowls and Insulated mugs
4 sip-it tops, folding pot gripper
Welded sink, Exclusive folding gripper locks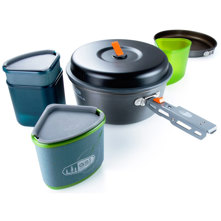 SKU: GSIPBCS
Compact design
BPA-Free resin
Crush proof strainer lid
Folding gripper locks
Non-Stick Coated, Hard Anodized Aluminum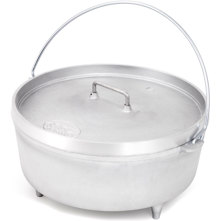 SKU: GSIDOA12
Weighs 66% less than cast Iron
Edge lip holds coals and charcoal
Fixed legs
Highly-conductive aluminum construction
Dimensions: 12 in. x 12 in. x  5.5 in.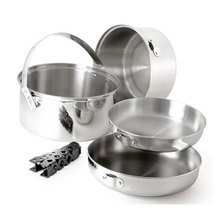 SKU: GSISCLR
2 pots, fry pans with lids
2 cutting boards
DiamondBack gripper
Mesh bag
18/8 stainless-steel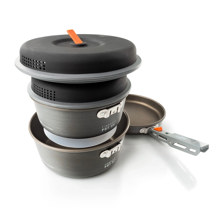 SKU: GSIPBCSM
3-liter pot with lid
5-liter pot with lid
9 Inch
fry pan
Cutting board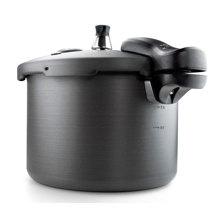 SKU: GSIHPC58
Anodized aluminum construction
Lighter
Compact design
Triple safety system
Independent release valves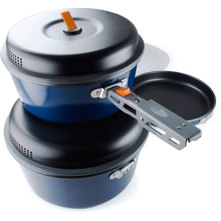 SKU: GSIBBCM
3 L Pot, 2 L Pot, 8 in. Frypan and 2 Strainer Lids
Cutting Board and Folding Pot Gripper
Exclusive folding gripper locks
Crushproof lid
BPA-Free resin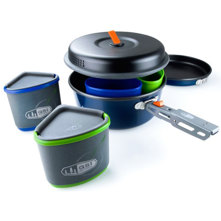 SKU: GSIBBCS
Rugged, welded stuff sack/camp sink
Crushproof, heat-resistant PBA-free nylon strainer lid
Compact, color-coded items nest inside
Aluminum with Teflon classic coating
A 2 liter pot, frypan with lid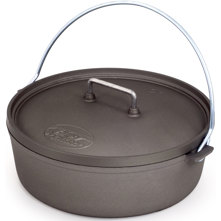 SKU: GSIDOH10
Hard anodized aluminum construction
Holds 2 qt.
Dimensions: 11.2 in. x 10.8 in. x 3.7 in.
Weight: 3 lbs., 10.6 oz.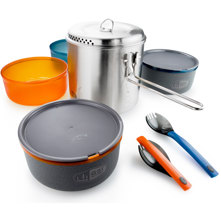 SKU: GSIGSD
Stainless steel lid with integrated strainer
1.8 L stainless steel pot
Two 20 fl. oz. insulated mugs
Folding handle
Two 20 fl. oz. bowls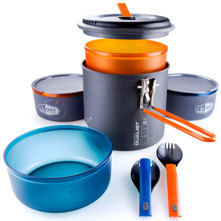 SKU: GSIDCS
Convenient folding handle
Lexan resin Crushproof lid 
Dimensions: 6.04 in. x 5.64 in. x 5.67 in.
Doubles as sink or wash basin
Includes an integrated strainer